December Week 3
This week's stand up meeting can be found [here] (https://docs.google.com/presentation/d/1k42fs18lUGzPlAKYii2IVDnD4P3uvzpipSN6LYP7Dp0/edit?usp=sharing).
Recap Meeting:

Controls is now working on a failure manager program that would detect failures in the robot and attempting to understand how simulation works.
Mostly everything else can be viewed on the stand up meeting link.
December Week 2
As the same as the previous weeks we had our weekly stand up [here] (https://docs.google.com/presentation/d/1tJ-HvRoiwD_MzsBiJwEmpUOdJ1q-LwltYoZDVYH3C8E/edit?usp=sharing)
Recap Meeting:

Thursday was a meeting for Controls in order to discuss how to do their additional tasks beyond coding the subsystems.
Recap Meeting:

Saturday was the Strategy meeting, and they combined their visualizations, went through game manuals from previous games, and started to come up with different match strategies.
December Week 1
Tuesday was once again our weekly recap for what each subsystem did last, and the link can be accessed [here] (https://docs.google.com/presentation/d/1hANxgBP6e9ni3nGPgGlV66Q_q_wX3wmGOi51F5rhMsU/edit?usp=sharing).
Recap Meeting: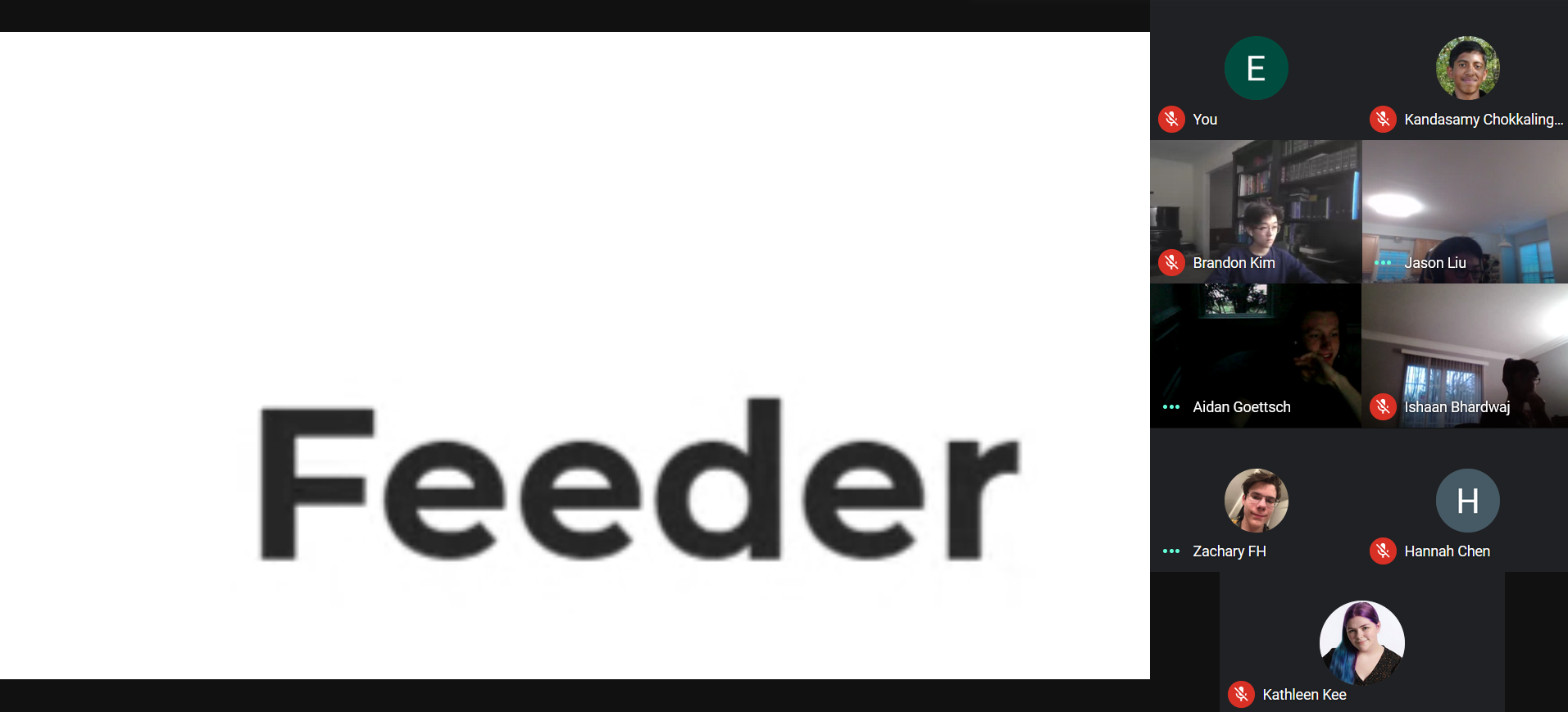 Additionally, on Tuesday, Controls had a mini meeting after the recap meeting in order to discuss future projects after the subsystems are finished.
Controls: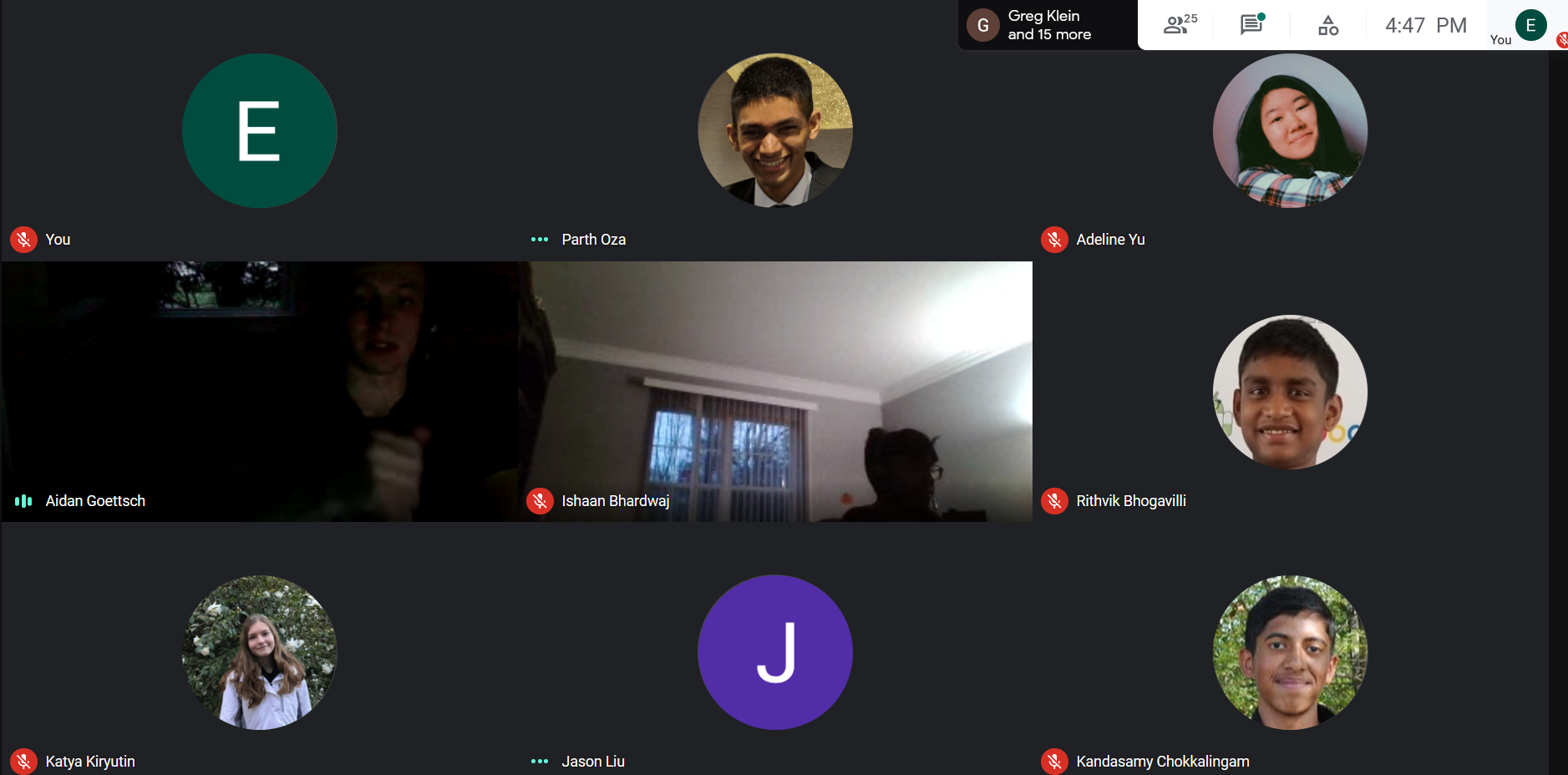 Throughout the week the individual subsystem teams worked on their respective subsystems and that work will be able to be seen on next week's blog.
The weekly Strategy meeting was canceled this week, but Business still continued to work on their respective grants.
November Week 4
Tuesday was our weekly recap to learn what each subsystem did. The slide presentation can be seen [here] (https://docs.google.com/presentation/d/1hANxgBP6e9ni3nGPgGlV66Q_q_wX3wmGOi51F5rhMsU/edit?usp=sharing) (same as the link from last week).
Recap Meeting:

Wednesday was the Weekly Business sync and few tasks were given as it was Thanksgiving Break.
Saturday was Strategy's meeting and after they shared scouting app updates, they wrapped up their analyses of previous years' games. Then they shared findings after going through the strategy offseason training template and discussed some.
Strategy: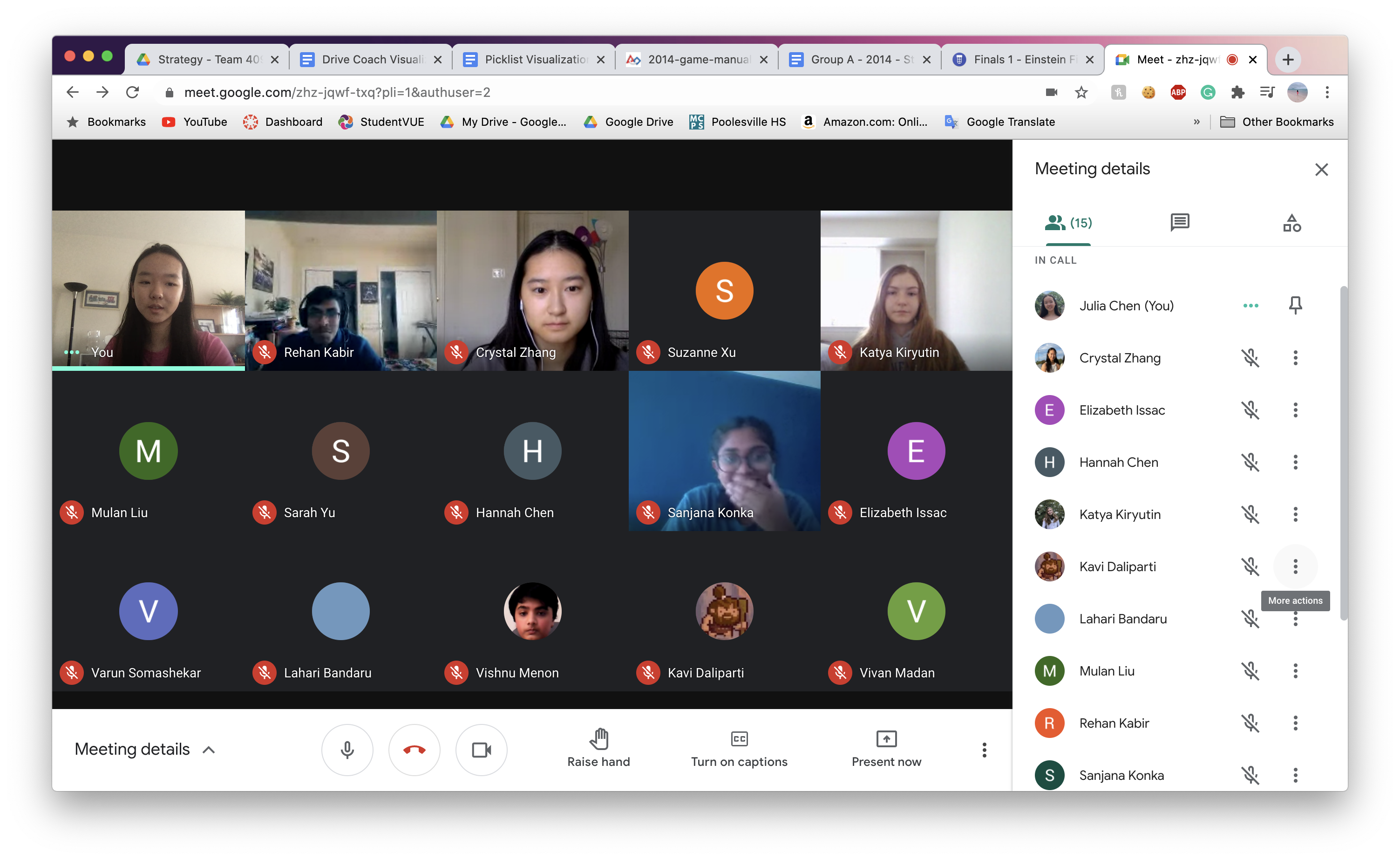 November Week 3
Tuesday the team as a whole recapped over what they did in the previous week. The Design portion for each of the subsystems has been going smoothly with certain parts of each subsystem completed. For Controls, each subsystem finished the basic outline for creating the class and commands. Additionally, each team afterwards decided respective times for when to meet up.
Recap Meeting: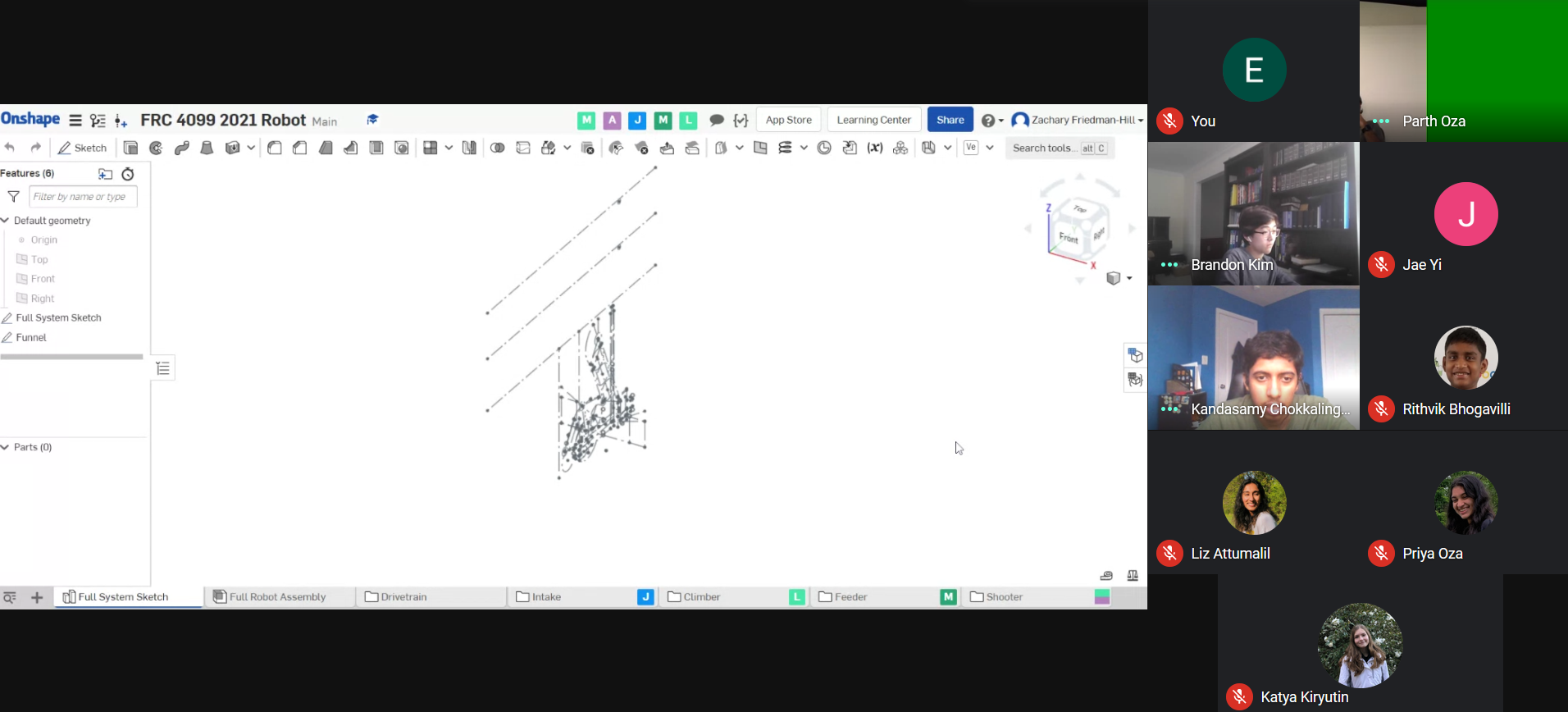 For the rest of the week each subsystem worked, and what each subsystem did in greater detail can be seen [here] (https://docs.google.com/presentation/d/1hANxgBP6e9ni3nGPgGlV66Q_q_wX3wmGOi51F5rhMsU/edit?usp=sharing).
Saturday, Business mainly recapped their progress on grants and discussed future plans. Strategy had a pretty short meeting - just updates on where they have gotten with combining visualizations for the scouting data analysis application and where they're headed next week with finishing up their analyses of previous years' games.
Strategy Meeting: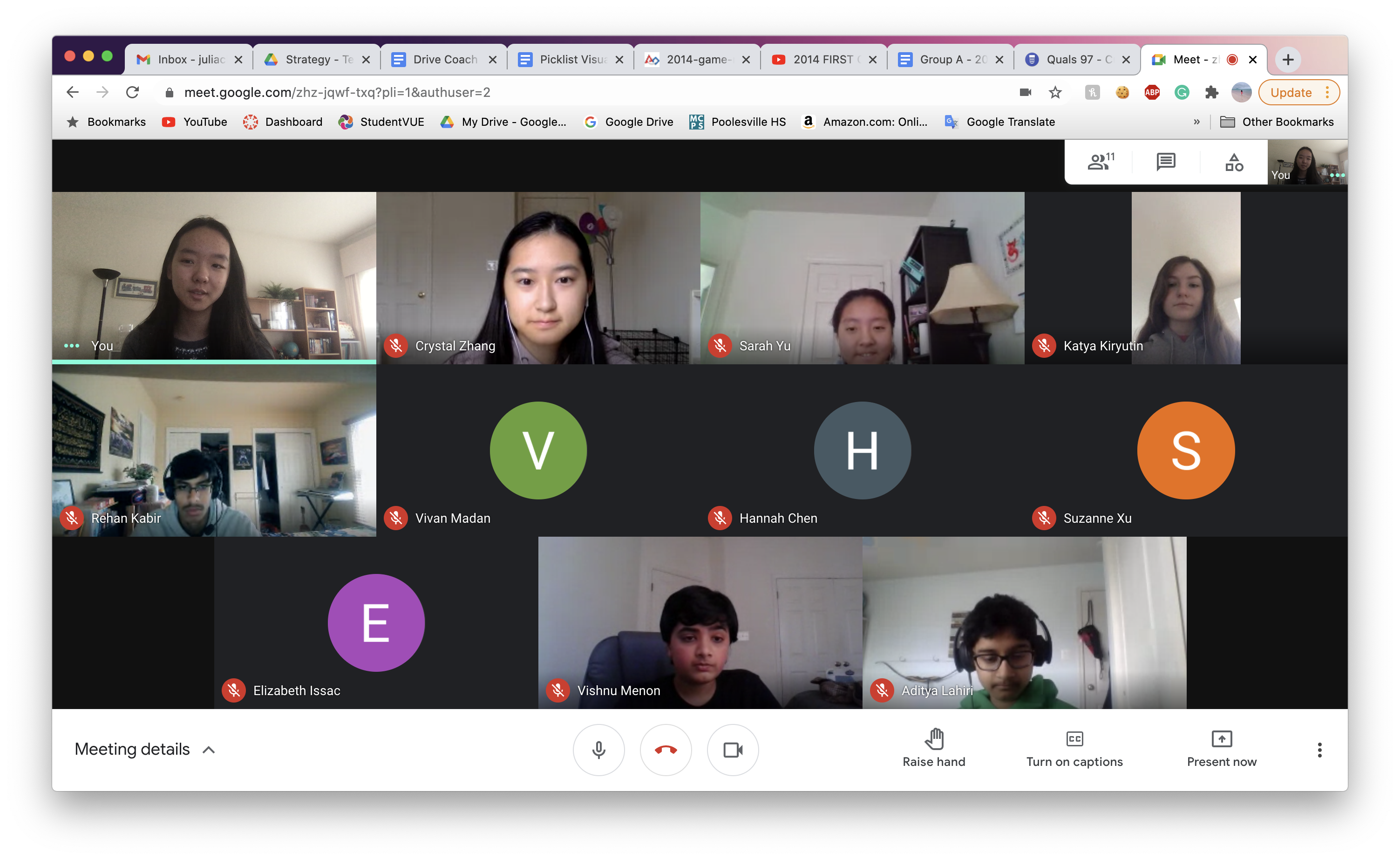 November Week 2
Tuesday was once again a subsystem meeting. Most subsystem teams chose their respective motors from their analysis on Thursday. Then each subsystem team worked on their respective tasks.
Thursday, members in Controls got together to discuss pneumatics as the robot this year contains them unlike last year. Once they went over pneumatics, they discussed programming styles, so they're code is consistent.
Controls: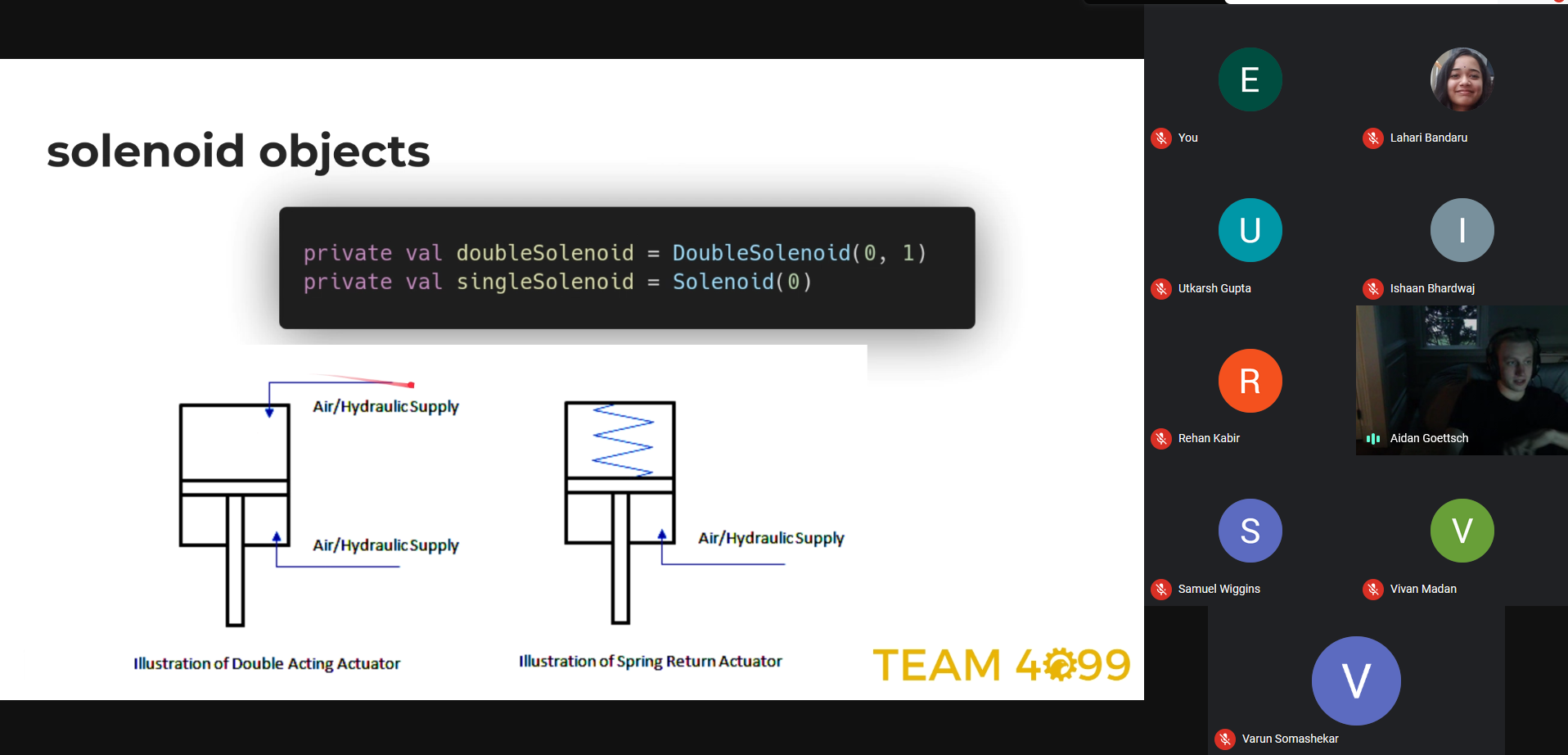 On Saturday, Strategy continue to share more updates, so the drive coach visualizations group is working on combining some of their graphics into one file, and the picklist visualizations group has created most of their main visualizations. For strategy, they're still analyzing a couple of previous years' games and beginning to look into match videos.
Strategy: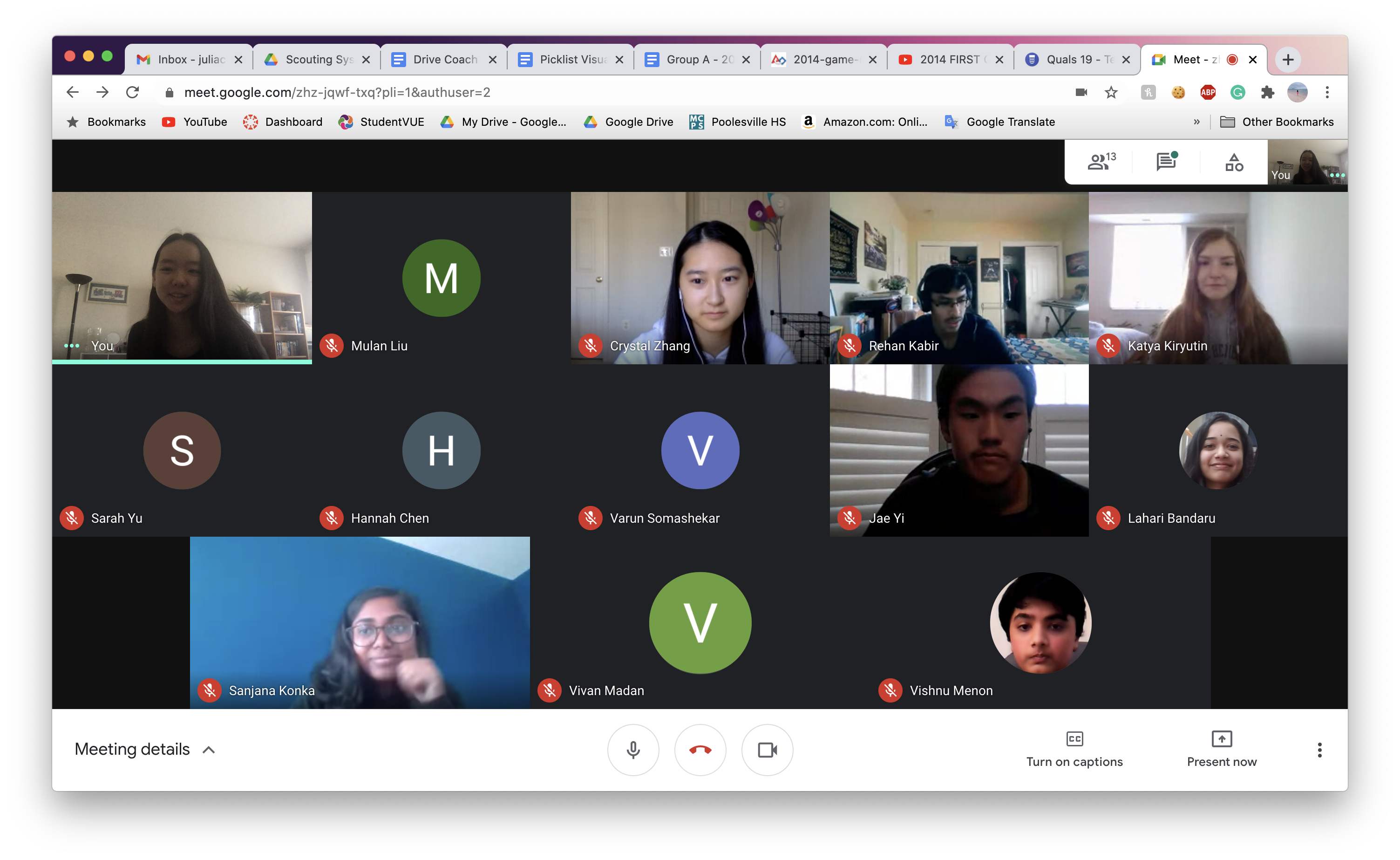 November Week 1
Tuesday was our last day of subsystem sketching! The last subsystem to finish sketching was the climber and once we finished sketching it, we looked over and finalized the entire robot.
Sketch: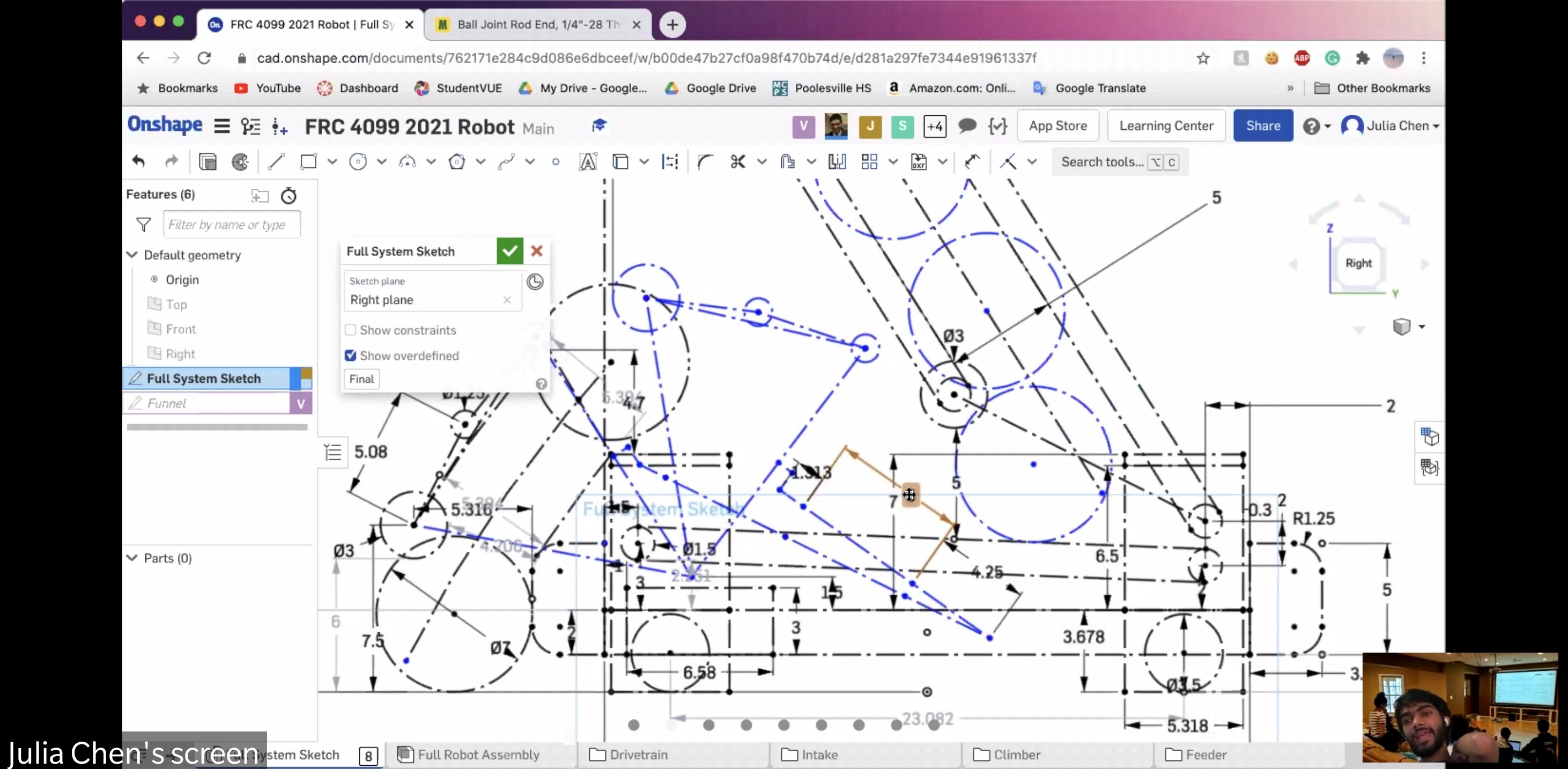 Thursday, the team went over how and why you would choose certain motors of others. This connected with what we learned during our physics workshops where we learned about stall torque and electricity, only now putting it in the context of motors. After our motors workshop ended, we split off into our subsystem groups and decided what motors we would use for our respective subsystems.
Motor Workshop: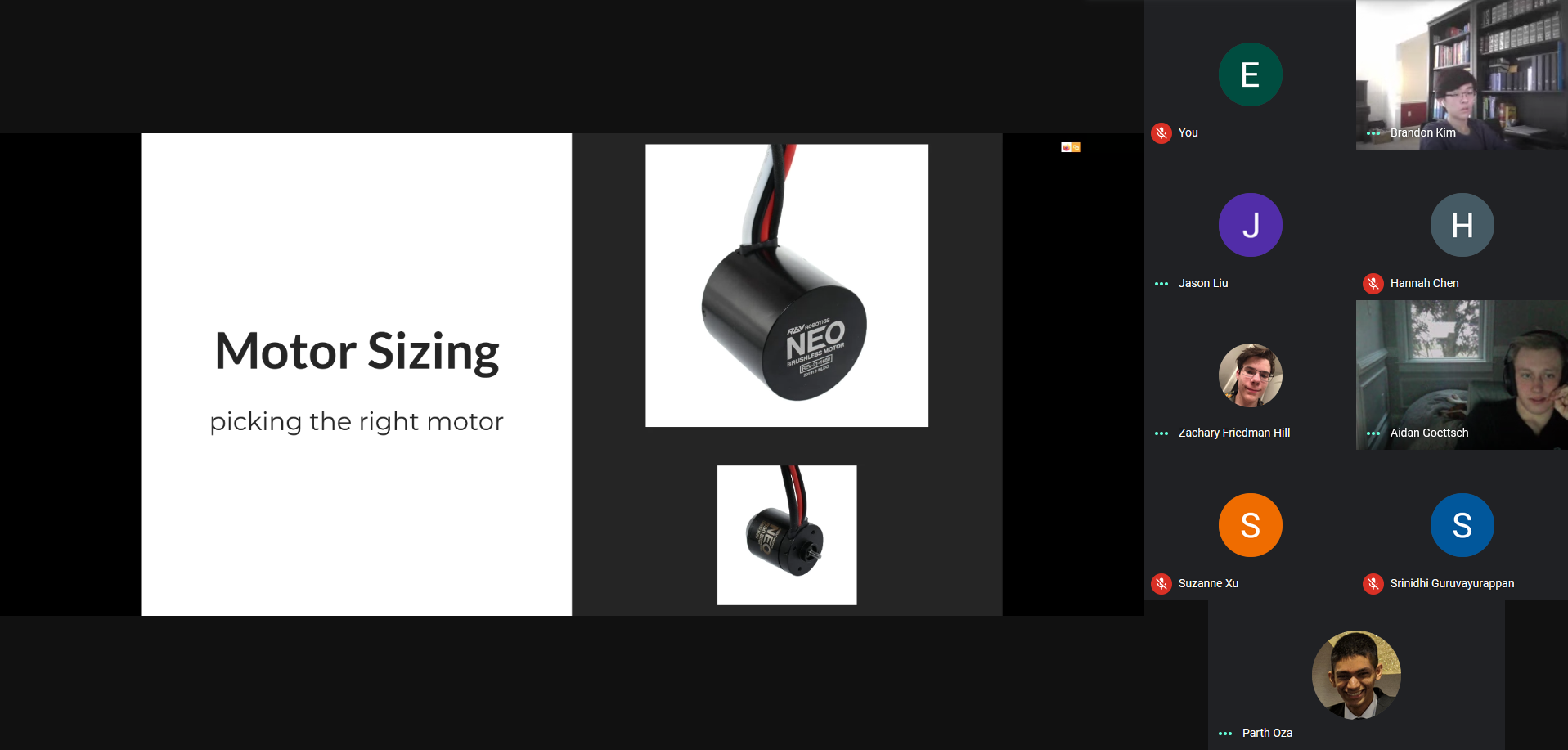 Saturday our Business workshop got canceled, but Strategy still met up. Strategy is making progress creating Tableau visualizations for our scouting data analysis app. They're continuing to look at previous years' games, so they will be coming up with our own match strategies for those games this week.
Strategy Meet: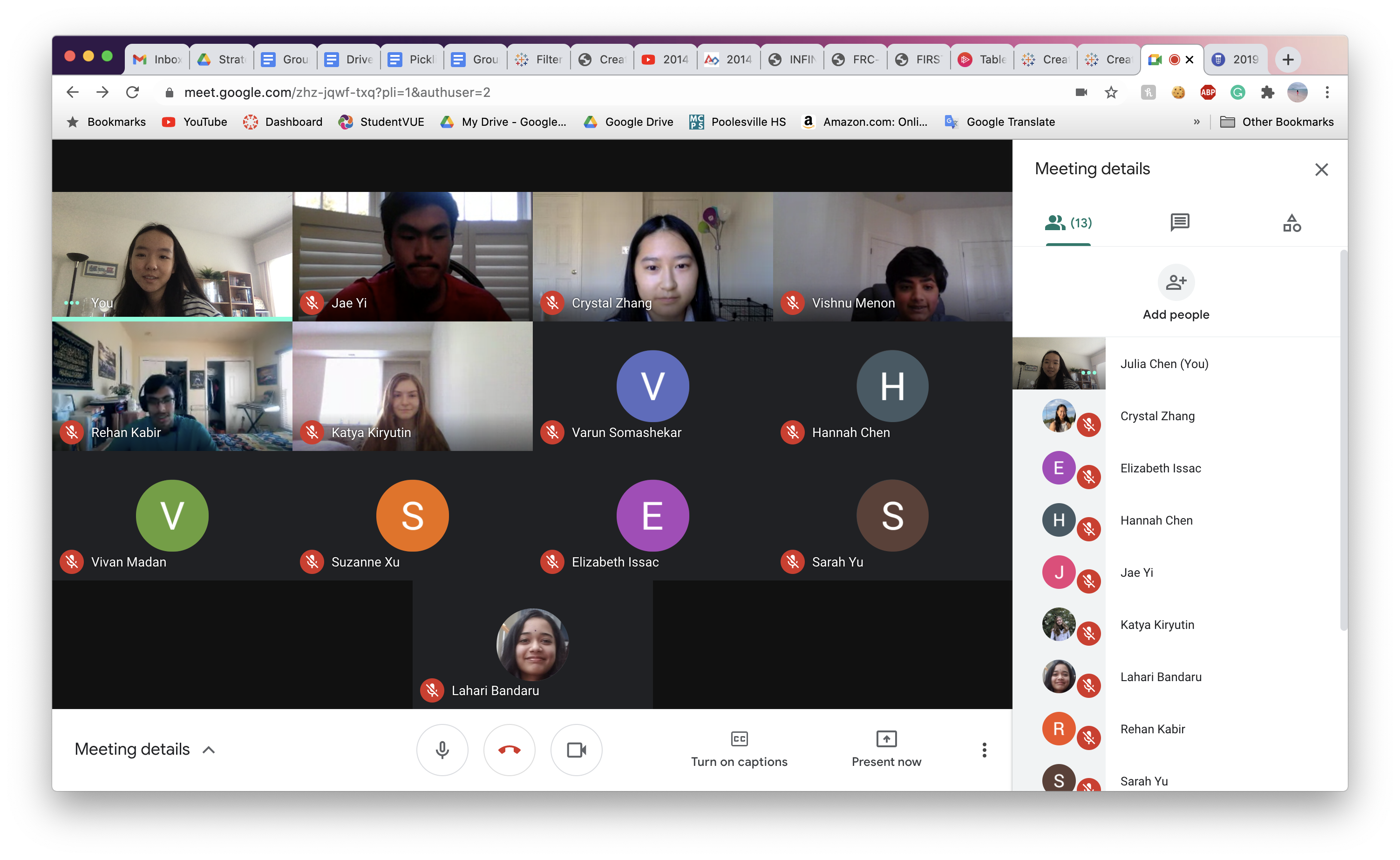 October Week 4
This Tuesday, the entire team started the sketch for the feeder subsystem. We looked at previous examples from last season in order to get a better idea of what our feeder sketch would look like. We had difficulties with starting to meeting and explaining the concept of our feeder. As a result, we only got through the feeder.
Feeder Sketch: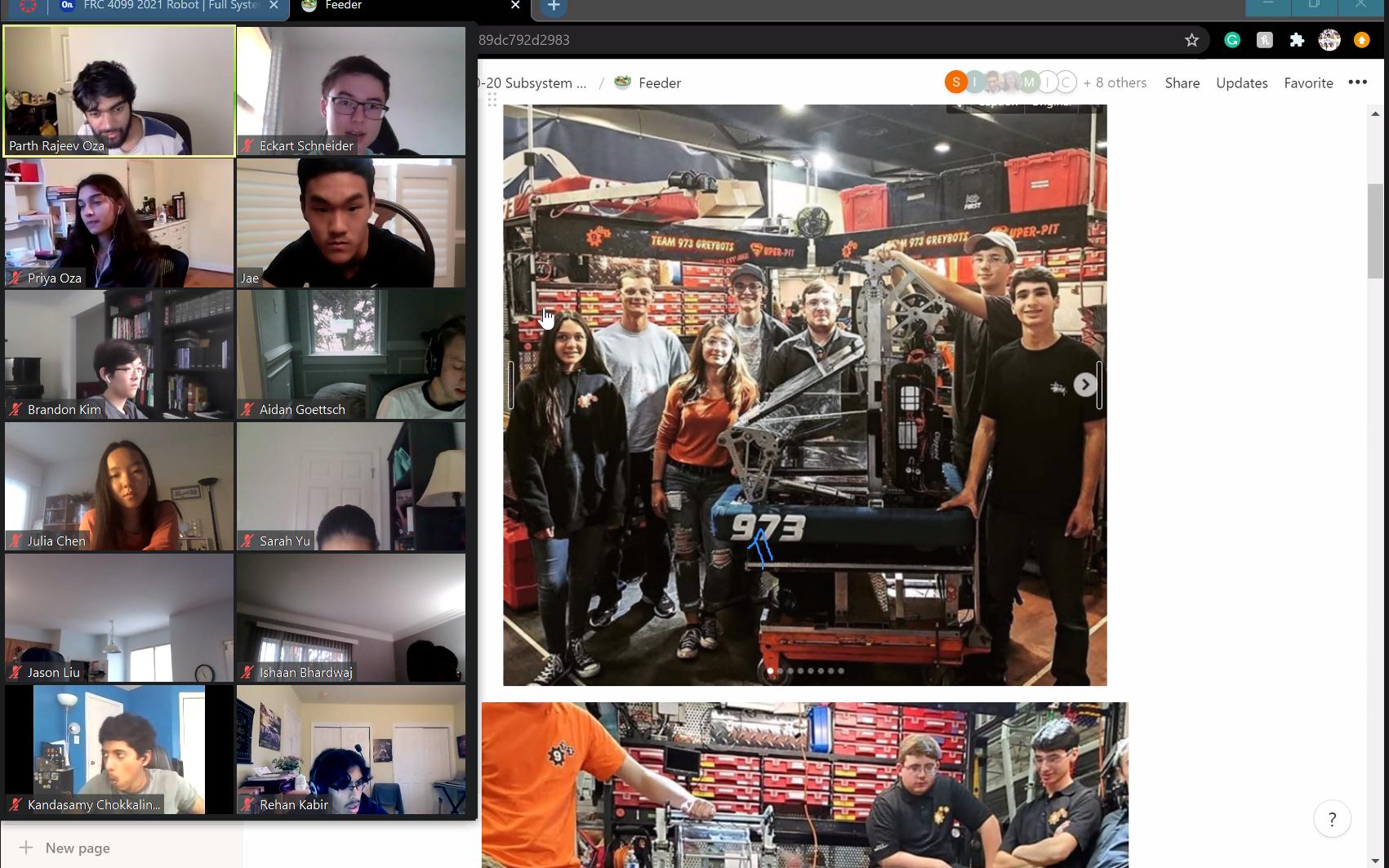 On Thursday, our team focused on sketching the shooter. The main topics we discussed were the width of the entrance to the shooter for the power cells; the angle of the shooter; and the height of the shooter. Due to us wanting to somewhat perfect the sketch, we spent all of Thursday doing only the shooter.
Shooter Sketch: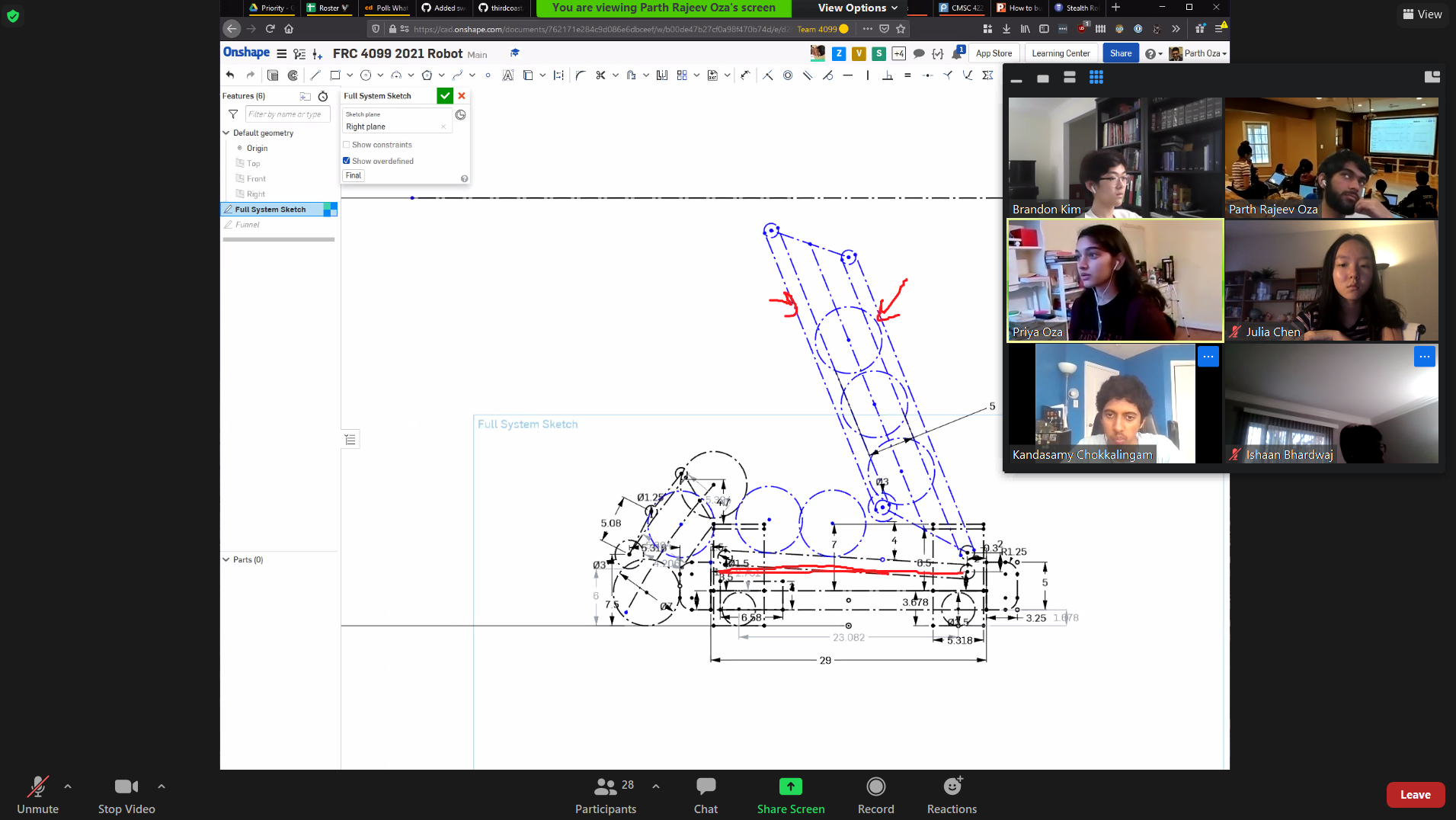 Saturday, Strategy shared updates for the scouting app, and made progress working on some graphics. They finished up discussing match videos from the 2020 game for strategy ideas, and they're getting started analyzing previous seasons.
Strategy: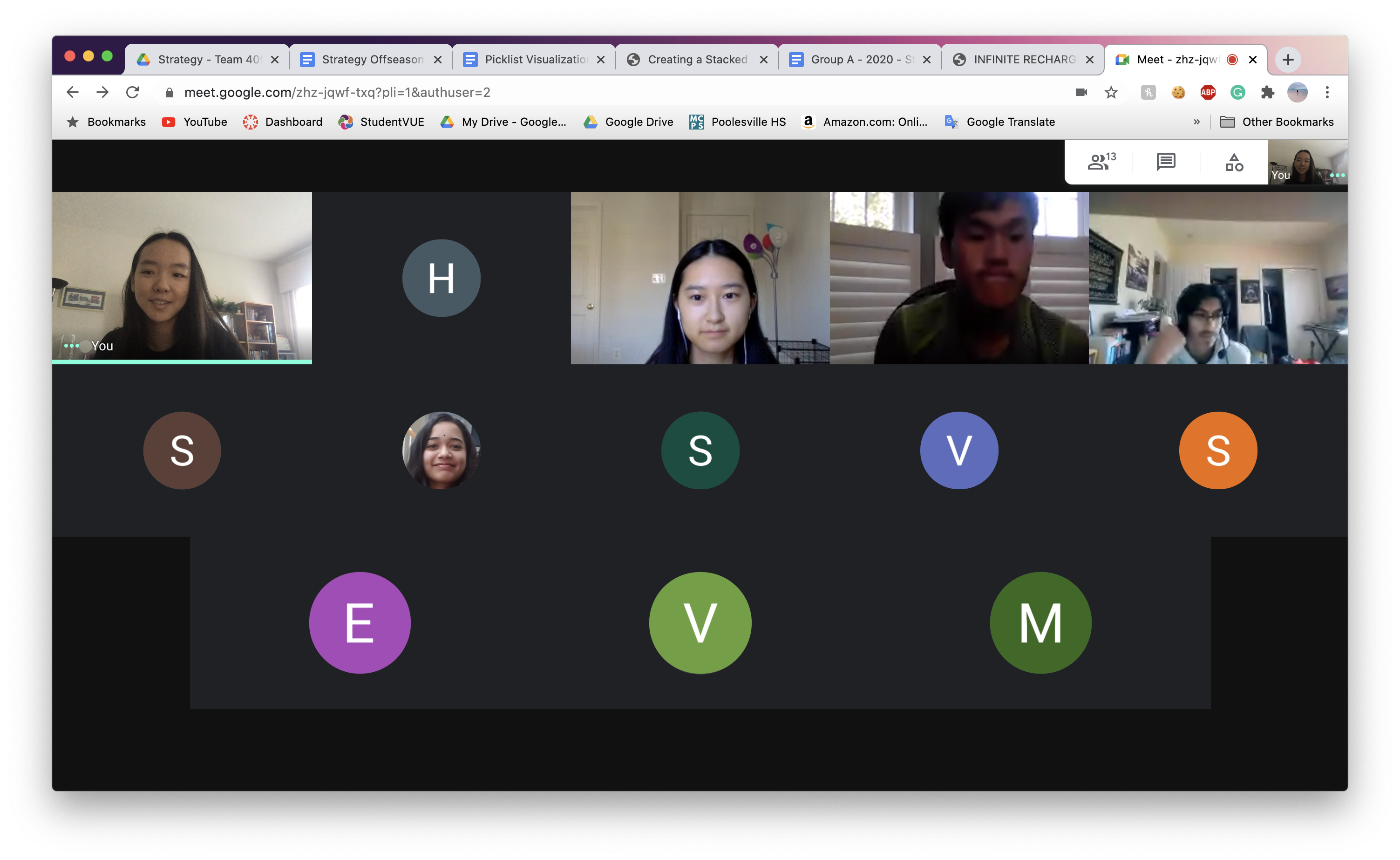 October Week 3
On Tuesday, the team worked on their respective subsystem. Most of the members in the subsystems were in the same group as kickoff and each subsystem group looked at potential ways their respective subsystem would look like.
Climber: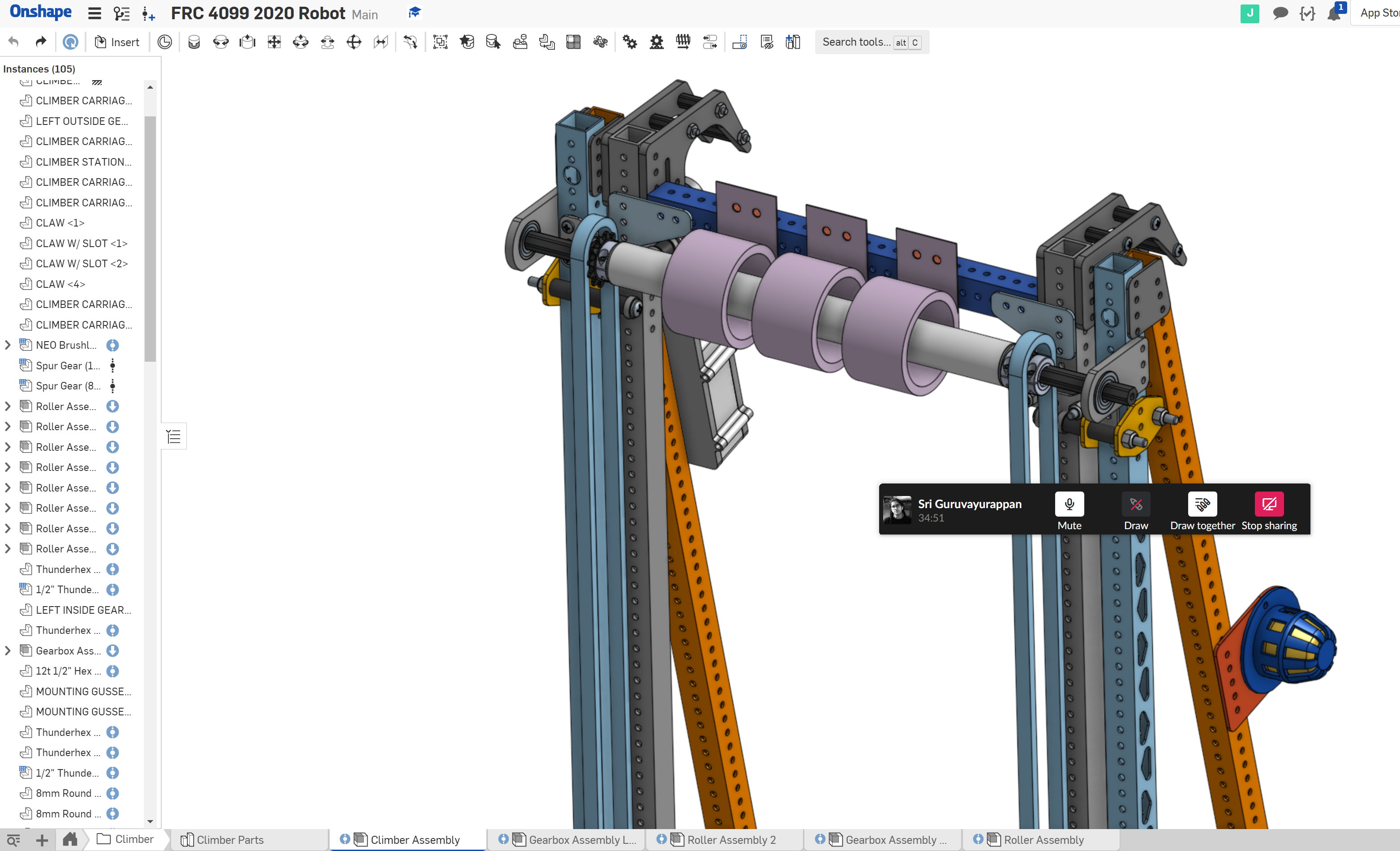 Drivetrain: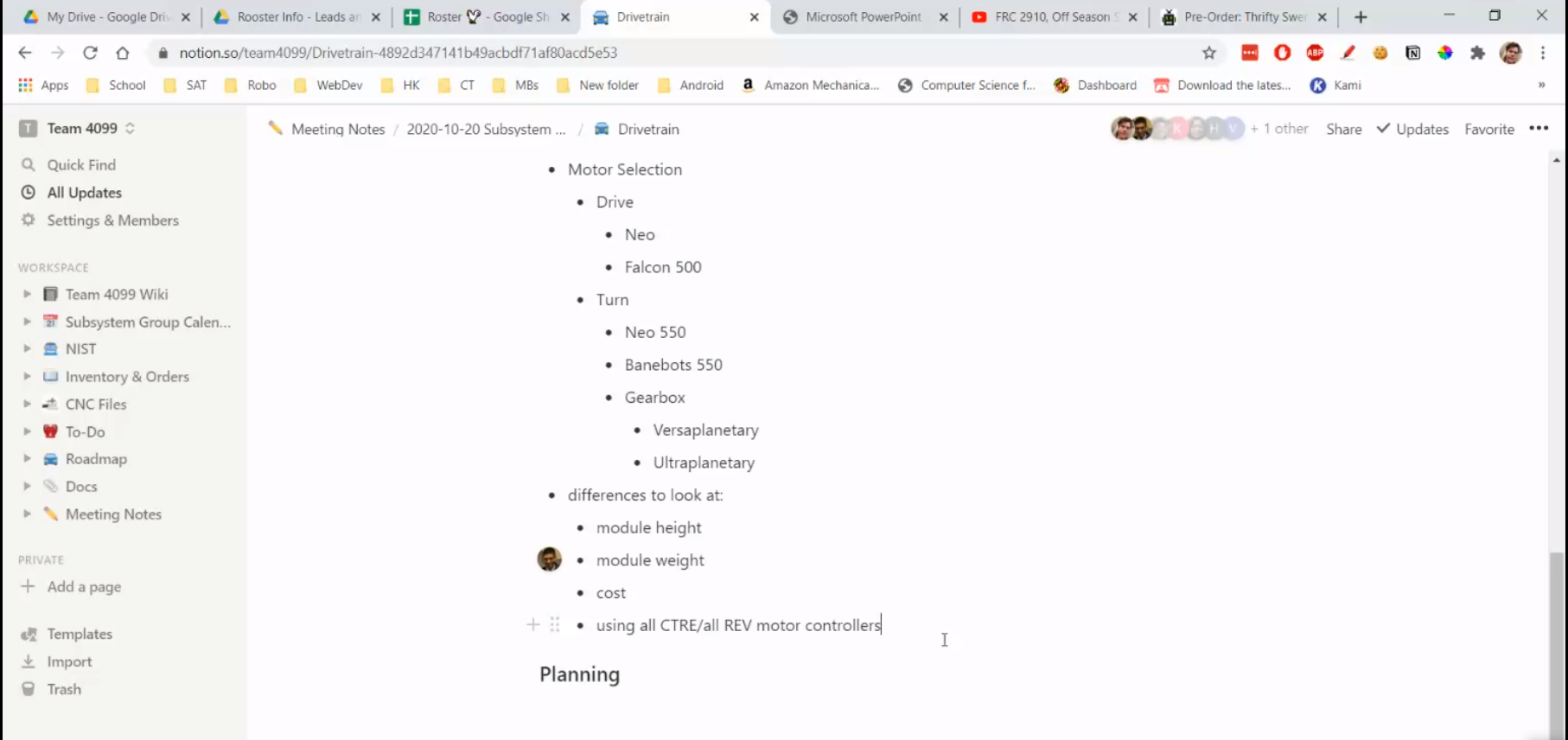 Feeder: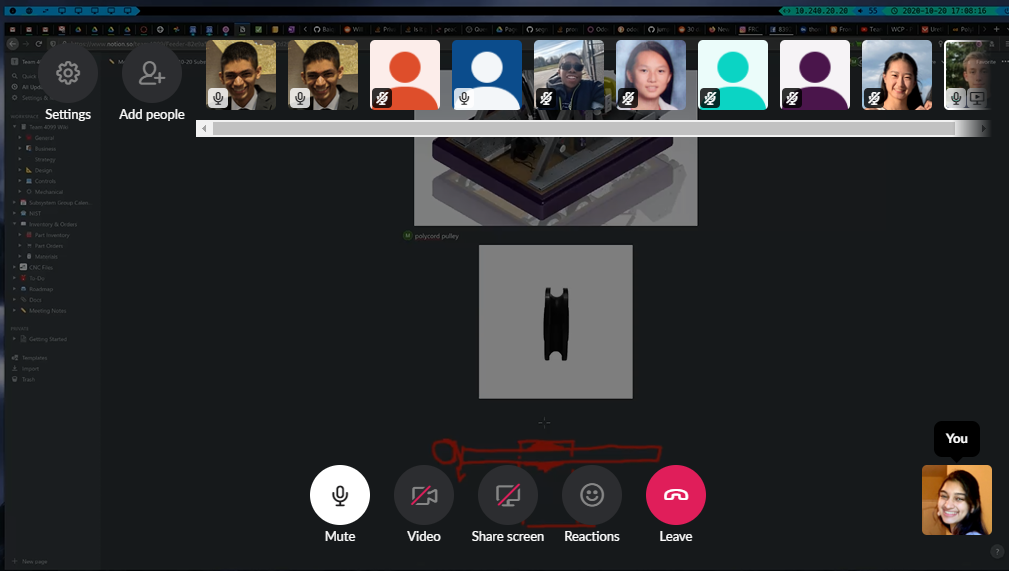 Intake: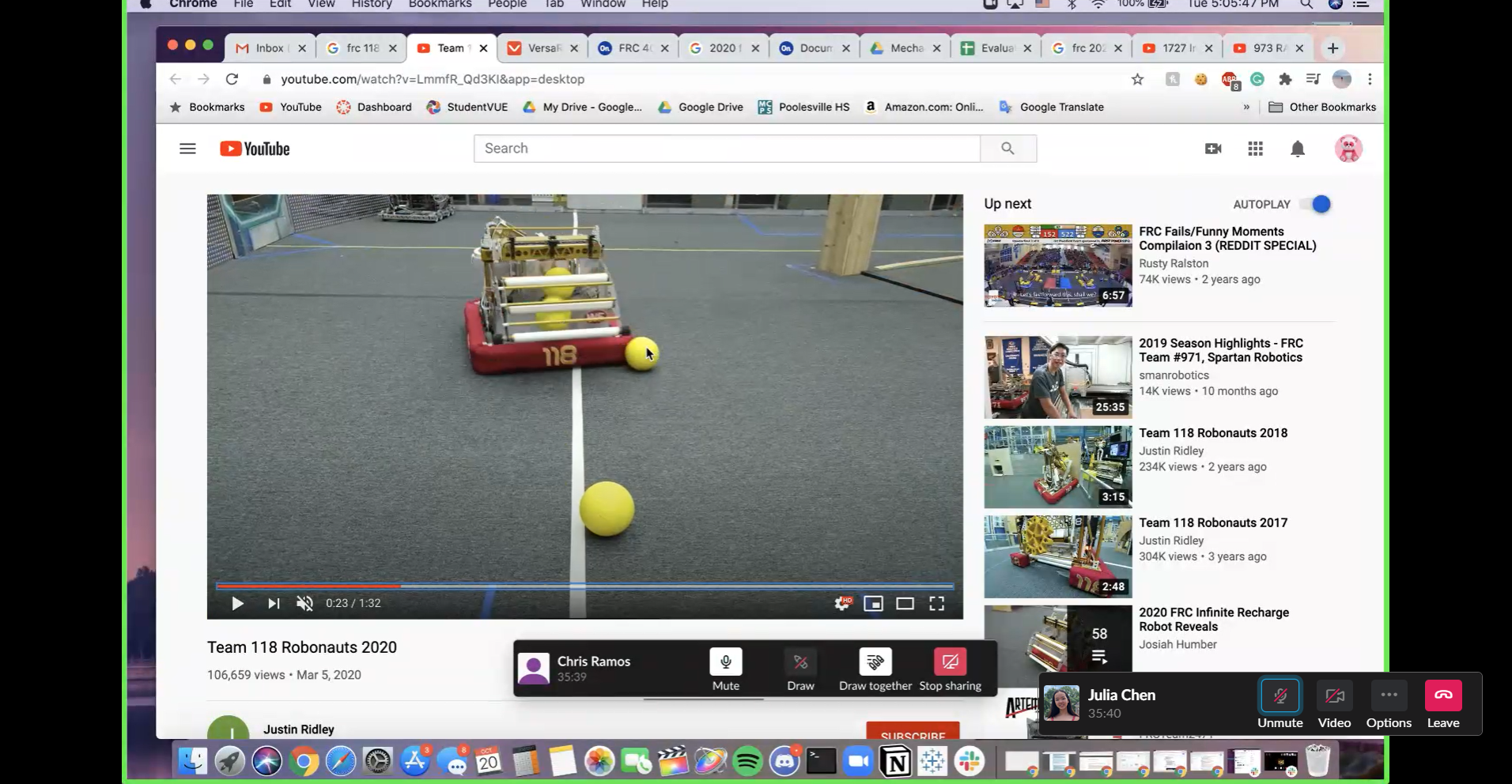 Shooter: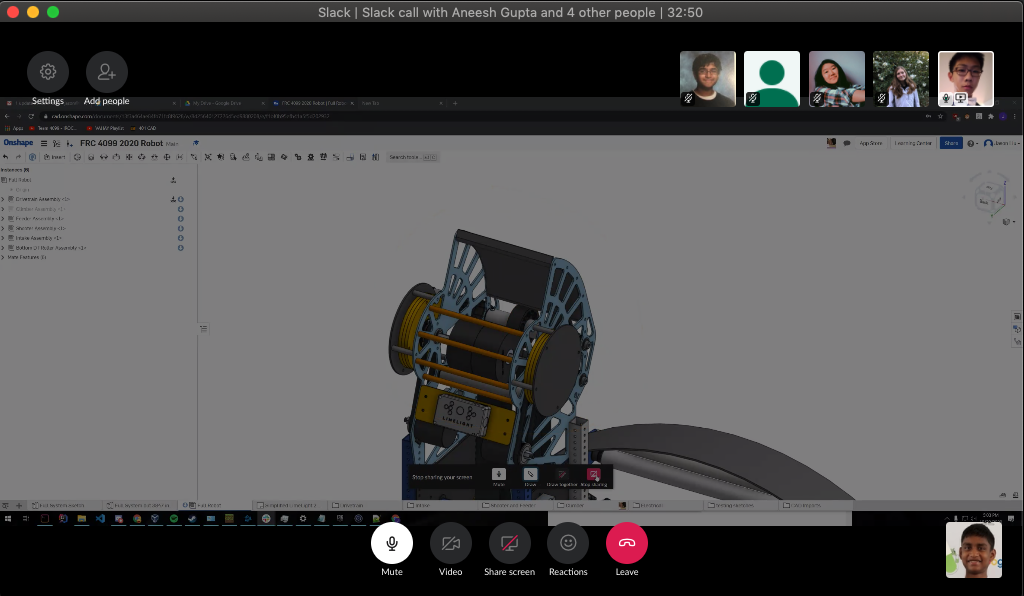 On Thursday, the team started the sketch for this year's robot. Everyone attended this meeting. However, we had complications setting up, and we were only able to go over sketching the intake and drivetrain.
Sketch: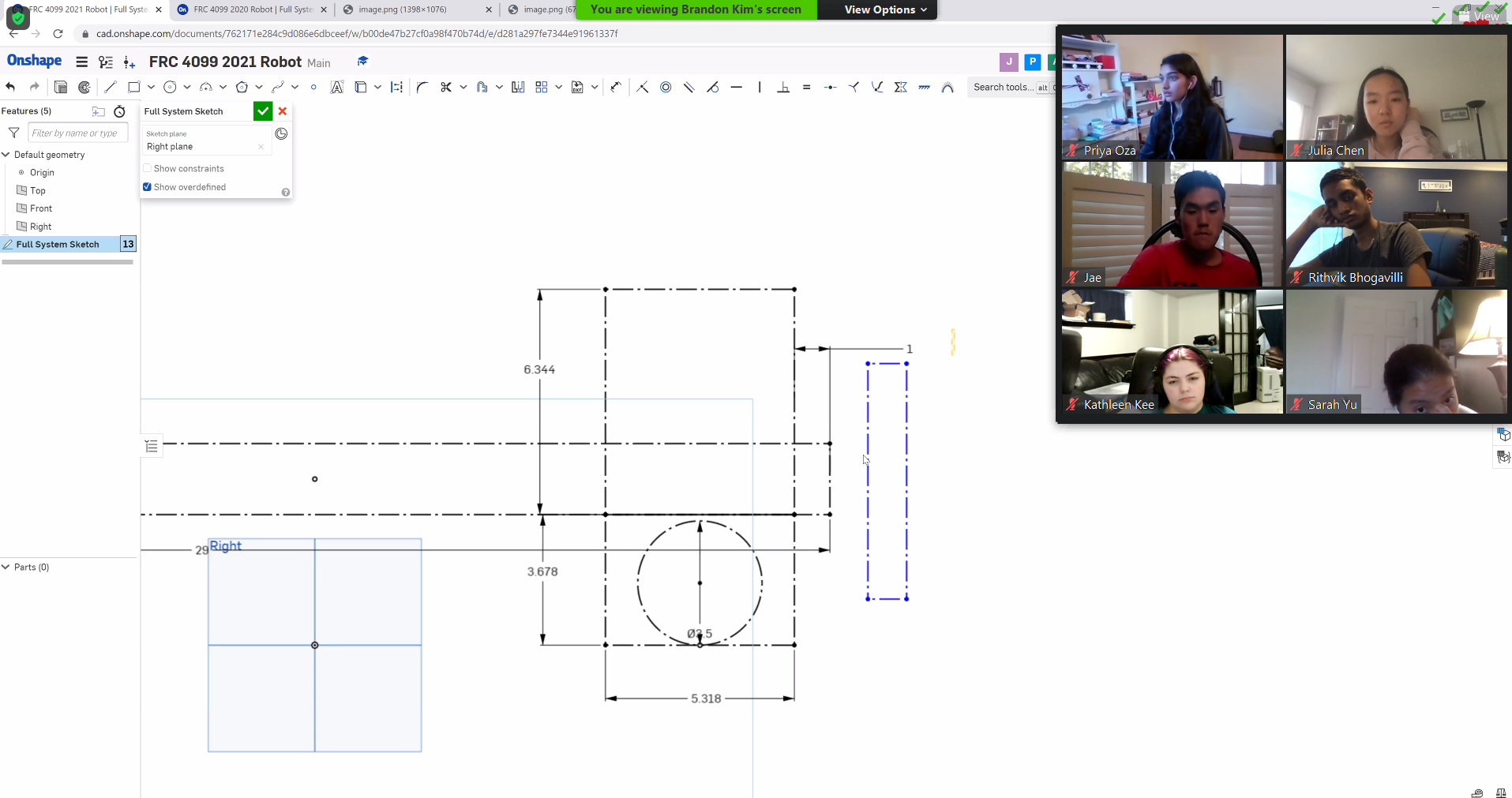 Saturday Strategy shared progress on research for their scouting data analysis visualizations, and so they're getting started with making some of those graphics. They also shared findings from match videos and discussed the strategies observed used in those videos. Business had their weekly sync and everything went normal.
Strategy: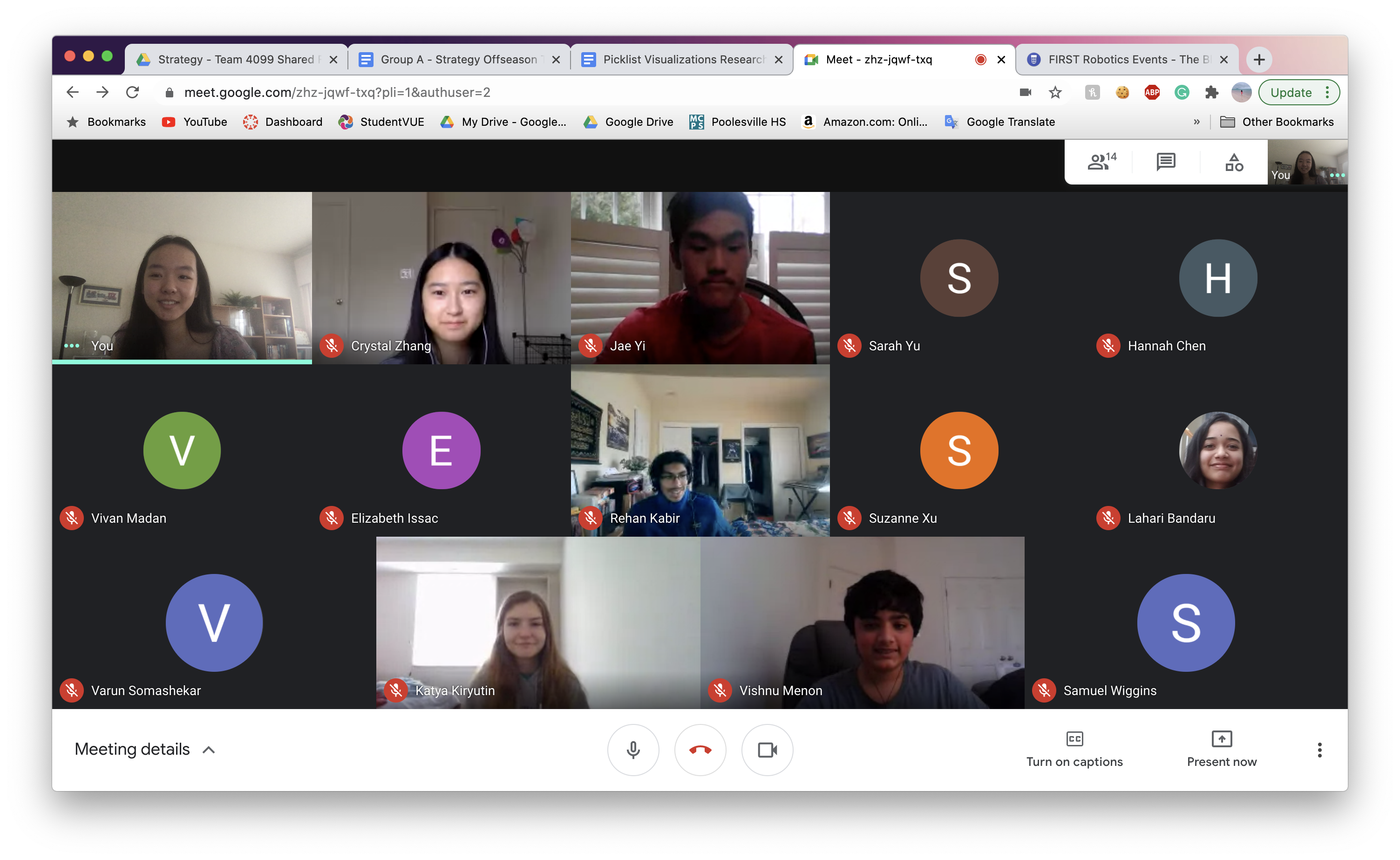 October Workshops Week 2
Every subteam this week attended a physics workshop held by our mentors. On Tuesday, we were taught the concept of angular motion and torque. Furthermore, we went over a basic overview of electricity. For example, we learned what voltage, resistance, and current means and how the three relate. On Thursday, we learned how to calculate gear ratios and what it means to choose the right motor.
Physics Workshop: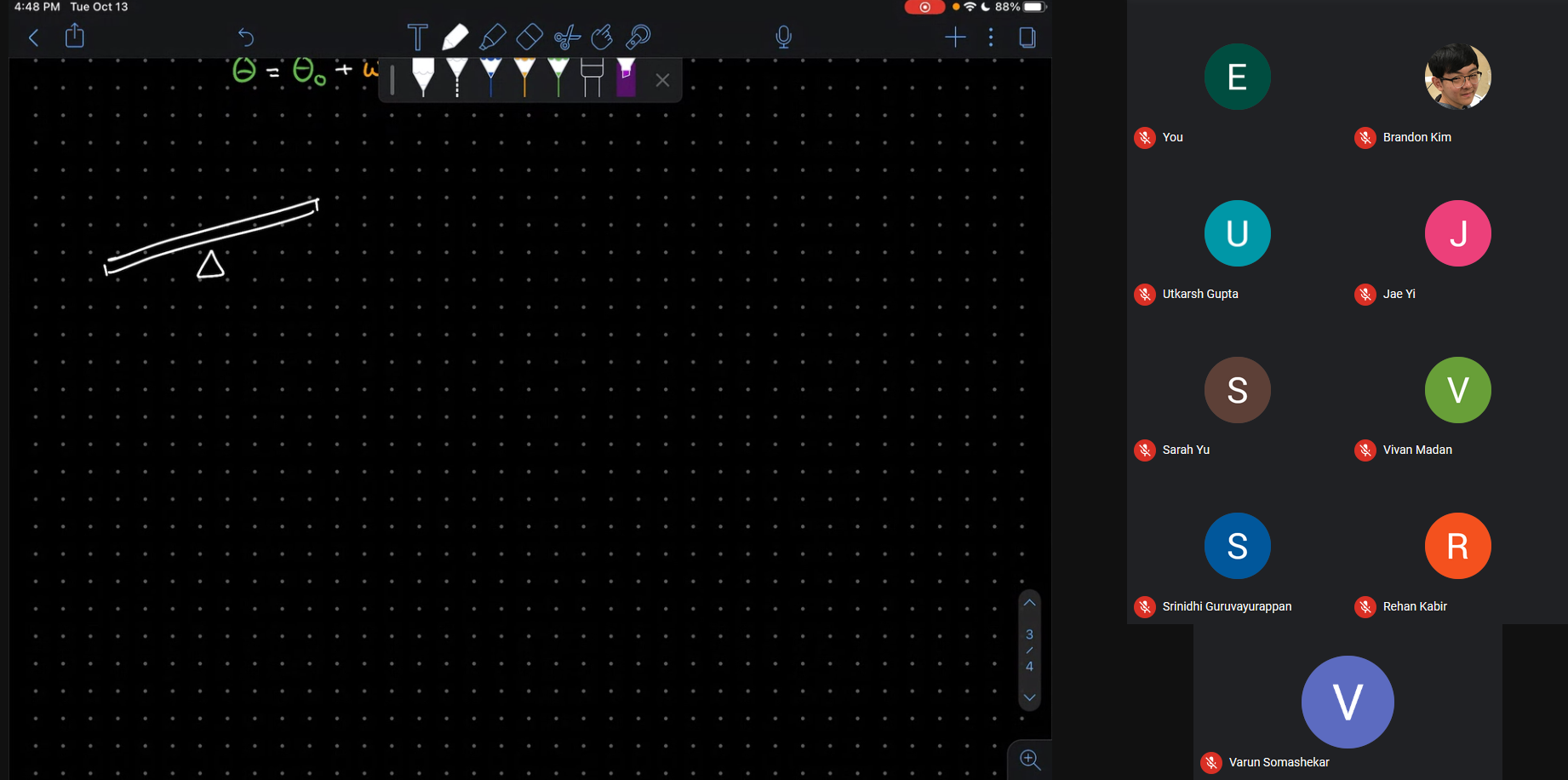 We only had a workshop for Strategy this weekend as Business would only need to ask for help for filling out grants. Strategy gave updates on progress with our scouting data analysis app and research with it and we went over and discussed strategies we came up with over the last week.